Kalendarium
Nyårsbuffé/Sylvesterbuffé - New Year´sBuffe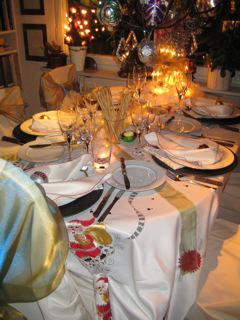 onsdag 31 december, 2008 kl 19–21


Restaurang Mat /Nacka Gourmet Catering

Nyårsbuffé/NewYears Buffe
Från kl 19 och före aftonens milonga serveras specialkomponerad Nyårsbuffé i Restaurangen Mat av Nacka Gourmet Catering, Marcusplatsen 1 C. Två sittningar: kl 19 och kl 20.30.
A New Year´s Buffet is to be served from 7 pm at the premises in Restaurante Mat by Nacka Gourmet Catering, Marcusplatsen 1 C. Two sittings: at 7 and 8.30 pm.
Kostnad/Price: 320 sek
Lokal/Location: Restaurang Mat
Catering: Nacka Gourmet Catering
Meny/Menu:
räkchevice i glas med mango och chili
sesampanerade laxspett med sweet chili youghurt
parmalindade kycklingfilespett
filodegspajer med spenat och fetaost
chevre chaud rippad med honung
fransk potatissallad med kapris och rödlök
stor ostbricka med frukt och grönt
1 glas vin alt öl /vatten.
Bokning förlängd till 27 december, maila till sylvesterbuffe@yahoo.se uppge namn, antal personer, mailadress och telefonnummer och betala till PG 4863186-5 senast 27 december märkt Sylvesterbuffe/ Booking to 27 december send mail to sylvesterbuffe@yahoo.se please send name, number of guests, your mailadress and phonenumber and pay to PG 4863186-5, marked Sylvesterbuffe to 27 dec.
Med reservation för eventuella ändringar
Kostnad: 320 kr per person.
Max antal deltagare: 100 personer.