Calendar
El GANCHO and its family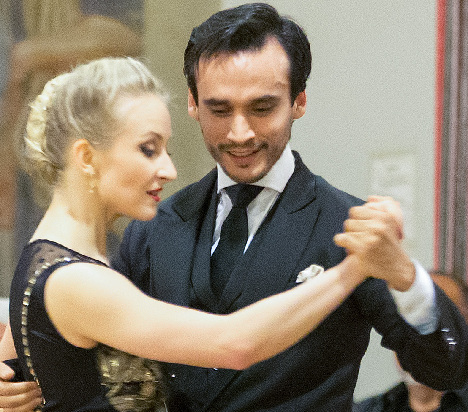 Los Rosales
saturday 30 December, 2017 at 16.15 till saturday 30 December, 2017 at 17.45


Alviks Medborgarhus, Nockebysalen


Stockholm Tangofestival 2017 29 dec - 1 jan

Workshop med Los Rosales, medelavc./avc.

---

Los Rosales Juan Manuel och Liza, är lärare i argentinsk tango, konstnärer och koreografer, med världen som arbetsfält. De besökte oss vid fjolårets festival och blev mycket uppskattade för sin precisa och pedagogiska undervisning. Dessutom var deras uppvisning på nyårsafton något helt utöver det vanliga.

---

En workshop kostar 350 kr. Om du tar två kostar den andra 300 kr och för ytterligare workshops är kostnaden 250 kr. Rabatten dras av i kundkorgen. OBS! Boka alla dina WS samtidigt så fungerar detta utan bekymmer.

Om du inte redan är medlem i Tango Norte måste du först registrera dig (tryck på "Registrera dig" i vänsterspalten). Efter det kan du logga in och boka. Om du inte väljer att bli medlem så betalar du istället en liten bokningsavgift.

Workshop with Los Rosales, Intm. Adv./Adv.

---

Los Rosales Juan Manuel and Liza, are international Argentine Tango teachers, artists and choreographers. They visited us during last year's tango festival and were much appreciated for their high quality teaching, and then they stunned everybody with their fantastic performance on New Year's eve.

---

The price for one workshop is 350 kr. If you take two, the second is 300 kr and then additional workshops cost 250 kr. This discount is adjusted for when you checkout to pay. Note! Book all your courses in one go and this will work without problems.

If you are not yet a member in Tango Norte you need to register (press "Register yourself " in the left column). After that you can log in and book. Payment can be done in several ways including credit card. If you choose not to be a member you pay instead a small booking fee.
Kostnad: 350 kr per person.
Max antal deltagare: 12 par.

Bokningsperioden avslutades friday 29 December, 2017 at 23.55.
Om du har frågor angående evenemanget, kontakta Eva Lindroth eller Marjatta Eladhari.