Calendar
FÖRARKURS TANGO för FÖLJARE!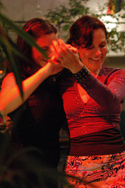 Charlotte Rivero
saturday 30 December, 2017 at 16 till saturday 30 December, 2017 at 17.30


Alviks Medborgarhus, Mossensalen


Stockholm Tangofestival 2017 29 dec - 1 jan

FÖRARKURS TANGO för FÖLJARE! En ny dimension för dig som dansar följare! med lärare Charlotte Rivero

Äntligen en kurs där du inte behöver anmäla dig med partner! Charlotte, pionjär med förarkurser för följare, kommer att gå igenom fördjupad teknik och musikalitet för förarrollen i tango vilket förutsätter att du behärskar grunderna väl som följare. Du bör ha dansat i minst 1-2 år som följare. Kursen lämpar sig också för dig som dansar/dansat mest som följare men redan provat att föra eller för en hel del men vill bli säkrare och få mer flyt som förare. Tanken är att ge följare möjlighet att lära sig föra och på så vis dessutom fördjupa sina färdigheter som följare. Att lära sig föra tillför en ny dimension i tangon. Efter kursen kommer du med övning att kunna dansa som förare på praktikor vilket innebär att du aldrig behöver sitta om du inte vill. Nu kan du öva båda rollerna. Nästa steg, efter lite övning, är att börja föra på milongor. Du kommer också att kunna delta ännu mer aktivt när du går andra kurser och komma ihåg turerna i större utsträckning.

Leading for followers! A new dimension for followers! with lärare Charlotte Rivero

Finally a course where you do not need a partner! Charlotte has pioneered the courses in leading for followers and will guide you through a deeper understanding of the technique and musicality of the role of the leader. This requires that you already are well acquainted with the role of the follower. You should have danced at least 1-2 years as a follower to take this course. The course is also for you who usually dance as a follower, but already has tried leading, or even do lead regularly, but desire to be more secure in this role. The idea is also to gain a deeper understanding of tango through the skills of the other role. To learn how to lead gives you a new angle on tango. After the course you can start leading at the practicas and you do not need to sit any more if you do not want to. You can train both roles. The next step - after more practice is to lead on milongas. Also when you attend courses you can be more active and you will remember the steps better.
Kostnad: 200 kr per person.
Max antal deltagare: 24 deltagare.

Bokningsperioden avslutades saturday 30 December, 2017 at 12.
Om du har frågor angående evenemanget, kontakta Eva Lindroth eller Charlotte Rivero.