Calendar
Seminar: Dancing with my free leg, part 2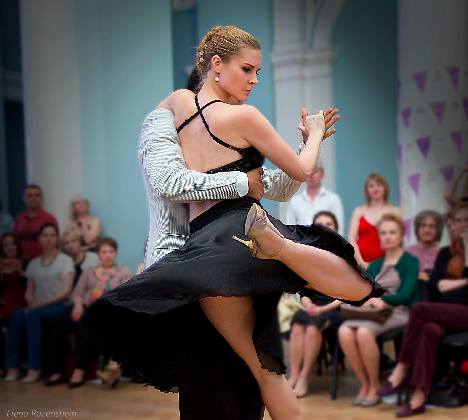 Sara & Juampi
sunday 30 December, 2018 at 18 till sunday 30 December, 2018 at 19.30


Alviks Medborgarhus, Nockebysalen


Stockholm Tangofestival 2018 28 dec - 1 jan

Seminarium med Sara och Juampi

Seminariet består av två WS i följd och vi rekommenderar att du deltar i båda.

Under seminariets tre timmar kommer vi att arbeta med de val och möjligheter som finns när det gäller hur och när vi använder vårt fria ben. Vi kommer att studera hur det fria benets rörelse kan ledas både när jag väljer att röra mitt ben oberoende av min partner och när det möter och skapar kontakt med ett annat ben.

Seminarierna är tänkta för dansare på såväl medel som avancerad nivå. Sara och Juampi kommer att se till att alla deltagare får hjälp och utmaningar på den nivå de befinner sig.

---

Om du inte redan är medlem i Tango Norte måste du registrera dig innan du kan boka kurser (tryck på "Registrera dig" i vänsterspalten). Efter det kan du logga in och boka. Om du inte väljer att bli medlem så betalar du istället en liten bokningsavgift.

Seminary with Sara och Juampi

The seminary consists of two WS directly after each other and we recommend that you participate in both.

During this three hours of seminary, we are going to work with options and possibilities of what, how and when to move the free leg. We will study when the movement of the free leg is lead, both when I choose to move it independently, or when the free leg meets and create contact with an other leg.

The seminars are designed for dancers on both intermediate and advanced level. Sara and Juampi will ensure that all participants get help and challenges on their own level.

---

If you are not yet a Tango Norte member you need to register in order to book courses (press "Register yourself " in the left column). After that you can log in and book. Payment can be done in several ways including credit card. If you choose not to be a member you pay instead a small booking fee.
Kostnad: 250 kr per person.
Max antal deltagare: 14 par.

Bokningsperioden avslutades saturday 29 December, 2018 at 12.
Om du har frågor angående evenemanget, kontakta Eva Lindroth eller Giovanni Vincenti.