Kalendarium
Milonga på Chicago + WS med Marcelo Alvarez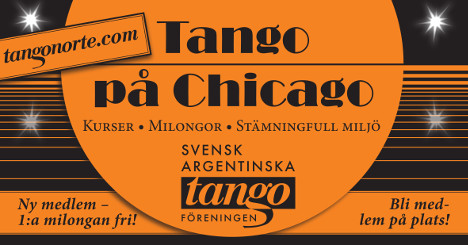 Marcelo Alvarez
fredag 4 januari kl 19.30 till lördag 5 januari kl 00.30


Chicago

Fredagskväll på Chicago!
Vi inleder med Drop-in Workshop 19.30 - 20.30 med Marcelo Alvarez på tema CONCEPT OF MILONGA/ MILONGA CON TRASPIE , WS:en kostar 180 kronor. Studentpris 150 kronor.
Marcelo H. Alvarez is a Tango and Folklore Argentino dancer and teacher. He was born in Buenos Aires and graduated as Profesor de Danzas Tradicionales Argentinas in 1998. Since then he has taken lessons with Osvaldo Zotto, Milena Plebs, Jorge Firpo & Aurora Lubiz, Gustavo Naveira,... He teaches the concepts of Tango with the aim that everybody will feel comfortable when they dance and that leaders and followers have a clear communication. Marcelo has a lot of fun dancing and teaching Milonga con Traspie and Canyengue... and Chacarera and Zamba, too! He is teaching in Buenos Aires, and since 2005 he has also been invited for workshops and courses in London, Amsterdam, Budapest, Dublin, Duisburg, Leeds, Nottingham, Hannover, Hamburg, Klagenfurt, Köln, Sheffield, Bratislava, and other cities.
Milonga från kl 20.30 med DJ:Jerzy Dzieciaszek
Café Chicago har öppet för oss och säljer smårätter, snacks och förfriskningar.
Milonga: Medlemmar 80 kronor. Våra gäster betalar 120 kr. Självklart går det att bli medlem på plats - och då ingår milongan!
Det går bra att betala med kort och med swish (men inga kontanter).
Café Chicago däremot vill bara ha kontanter.
Varmt välkomna att dansa in trettonhelgen med Tango Norte!
Varje fredag! WS 19.30-20.30. Milonga fram till 00.30.
Information om lärare, tema och DJ uppdateras allteftersom det spikas
---
---
Information till dig som betalar/har betalt medlemskap i Tango Norte på Chicago För att du skall kunna få medlemsförmåner som billigare inträde på Chicago och på praktikorna, så måste du finnas med i Tango Nortes medlemsregister. Medlemsregistret är webbaserat. Du registrerar dig själv här på webben (Klicka på Bli medlem/registrera dig i vändterspalten). Kassören kommer sedan att markera att du har betalt.