Calendar
Milonga på Chicago + WS med Raul & Julieta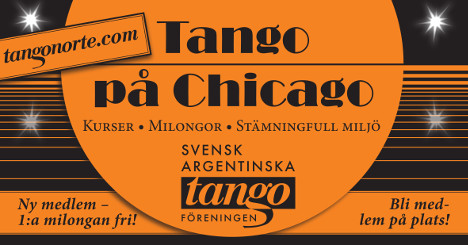 Rauli Choque och Julieta Questa
friday 24 Maj at 19.30 till saturday 25 Maj at 00.30


Chicago

Fredagskväll på Chicago!
Vi inleder med Drop-in Workshop på tema: Tango elements for the pista. Figures with different rhythmic applications med Rauli Choque och Julieta Questa 19.30 - 20.30. WS:en kostar 180 kronor. Studentpris 150 kronor.
Milonga från kl 20.30 med DJ Jerzy
Café Chicago har öppet för oss och säljer smårätter, snacks och förfriskningar.
Milonga: Medlemmar 80 kronor. Våra gäster betalar 120 kr.
Det går bra att betala med kort och med swish (men inga kontanter).
Café Chicago däremot vill bara ha kontanter.
Varmt välkomna att dansa in helgen med Tango Norte!
Vi forsätter maj ut! Varje fredag! WS 19.30-20.30. Milonga fram till 00.30.
Information om lärare, tema och DJ uppdateras allteftersom det spikas
---
---
Ännu inte medlem i Tango Norte? Bli medlem här på hemsidan! Klicka på Bli medlem/registrera dig i vänsterspalten. Medlemskapet gäller ett år från betalningsdatum och du är sedan välkommen till Chicago och till praktikorna - till medlemspris!