Calendar
Sommartango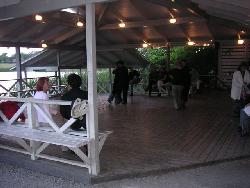 DJ Agne Fredricson
monday 24 June at 18.30 till monday 24 June at 21.30


Stora Skuggans utedansbana

---
Under sommaren dansar vi om måndags-kvällarna!
På Stora skuggan dansar vi verkligen i naturen, men ändå under tak så det gör inget om det duggar lite

, men vi ställer in om det blir oväder.
Utedansbanan ligger öster om universitetsområdet Frescati på Norra Djurgården. Klicka på namnet ovan för utförlig vägbesrivning.
DJ Agne Fredricson
Värdar: Kristina Källgren och Agne Fredricson
Det blir tango på Stora Skuggans utedansbana 17/6, 24/6 och 1/7. Sex måndagar; 8/7, 15/7, 22/7, 29/7, 5/8 och 12/8 är vi istället på Jakobsbergs Gård (samma tider).
Kostnad: 30 kr
Välkommen att dansa med oss!
---
During the summer we dance every Monday night (17/6-12/8)
The outdoor dance pavilion at Stora skuggan has a roof and light rain is no problem, only really bad weather will force us to cancel (announced here at www.tangonorte.com in that case). You find the dance pavilion in the park east of Stockholm University. It is a 10-15 minute walk from metro station Universitetet. Click on the name Stora skuggans dansbana above for directions. If you drive - check carefully - some roads are closed during the summer due to construction work.
On Google Maps you can search for Dandsbanan, Stora Skuggan, Stockholm
We dance Tango at Stora skuggan 17/6, 24/6 and 1/7. The other Mondays; 8/7, 15/7, 22/7, 29/7, 5/8 and 12/8 we are instead on Jakobsbergs Gård, see more in the Calender.
Welcome!
---
Kommer du med bil? Elnätet på Norra Djurgården är under ombyggnad och Bergiusvägen/Stora Skuggans väg är avstängd för bilar norrifrån/Roslagsvägen. Det går dock att köra hela vägen fram till Stora Skuggans värdshus via Frescativägen. Se karta här: https://www.ellevio.se/contentassets/b405a10d516b479d800c698fcb2097c3/skanska-1812-x-stora-skuggans-vag-avstangd-info-20190423.jpg} För mer information se Ellevios sida: https://www.ellevio.se/privat/om-oss/vara-projekt/norra-djurgarden/
---
Max antal deltagare: 100 personer.