Calendar
Tango på Plattan med Maria Garcia och Marta Negrin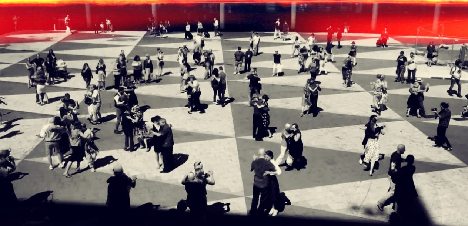 DJ Jessica Carleson
tuesdag 16 Juli at 17.20 till tuesdag 16 Juli at 19.30


Sergels torg

Tango in the City (English below)
I sommar arrangerar Tango Norte - på uppdrag av Kulturhuset/Stadsteatern - tango 6 tisdagar i rad (25/6 - 30/7), och sedan också onsdagarna 7 och 14 augusti, Det blir prova på för nybörjare med flera av Stockholms främsta lärare. Tipsa dina vänner! Och sedan fri dans! Ingen kostnad. Kom till Plattan vid Sergels torg och dela med dig av din passion för argentinsk tango!
Program
17.20 - ca 17.30 Presentation
17.30 - ca 18.15 Prova-på, med Stockholms tangolärare
18.15 - ca 19.30 Praktika (övning och social dans) till Tango Nortes Djs.
Prova-på leds av lärare från Stockholms tangoskolor. Olika lärare och skolor varje gång. Instruktionen är ca 40 minuter lång och avslutas med en uppvisningstango av lärarna.
Alla medlemmar! Kom och hjälp till att dela ut infolappar, prata med nyfikna stockholmare, ev sälja solfjädrar/böcker. Och gör reklam genom att dansa! Extra plus med föreningströjan på!
Varmt välkomna!
---
During the summer there will be outdoor tango at Sergels torg, in the heart of Stockholm. Every Tuesday between June 25 and July 30, and then also Wednesday August 7 and 14.
Program
17.20 - around 17.30 Presentation
17.30 - around 18.15 Try-out lesson with tango teachers from Stockholm.
18.15 - around 19.30 Practica (social dance and an opportunity to practice) with DJs from Tango Norte.
The try-out lesson is around 40 minutes long , and finish with performance-tango by the teachers.
The event is free of charge. Welcome to dance with us!