Calendar
WS 1 med Eric Jorissen: Mjuka sacadas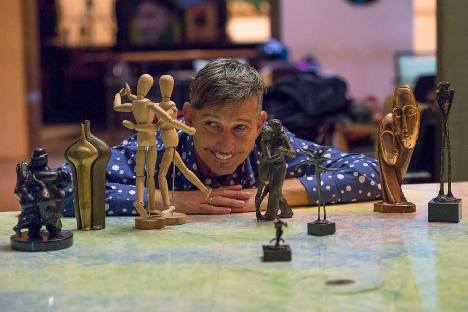 Eric Jorissen
saturday 12 October, 2019 at 16 till saturday 12 October, 2019 at 17.30


Tellus Fritidscenter

WS 1 Mjuka Sacadas
Möt mästaren av dansordning! Den 12-13 oktober kommer Eric Jorissen äntligen tillbaka till oss i Stockholm, och ger då fyra workshops på Lignagatan, två på lördagen och två på söndagen.
I 30 år har denne holländske gentleman undervisat elever och lärare från hela världen i sitt tangomecka El Corte i lilla Nijmegen. Många svenskar har hittat dit men nu kommer han hit! Och om någon kan undervisa om floorcraft - hur man delar ett knökfullt golv utan att krocka och ändå dansar för fullt - så är det Eric Jorissen.
Eric har studerat danspedagogik vid Rotterdams dansakademi och har dansat i över 40 år. Han började dansa tango 1987, inspirerad av sin förebild Pepito Avellaneda. Han reser 150 dagar om året och undervisar bland annat i USA och Sydafrika, ändå lyckas han undervisa på El Corte tre dagar i veckan under terminerna.
Alla är välkomna att anmäla sig till kurserna! Om du inte redan är medlem i Tango Norte måste du först registrera dig på http://www.tangonorte.com/register.php. Efter det kan du logga in och boka . Om du inte väljer att bli medlem så betalar du istället en liten bokningsavgift.
Bokningen via nätet stänger på fredag kväll 11/10. Ev. kvarvarande platser säljs på plats under helgen för 300 kr per WS.
Kurserna är tänkta för dansare på såväl medel som avancerad nivå. Eric kommer att se till att alla deltagare får hjälp och utmaningar på den nivå de befinner sig.
Undervisningen sker på engelska.
---
WS 1 Sacadas with smooth solutions
Meet the master of floorcraft On 12-13 October Eric Jorissen will return to Stockholm. This Dutch gentleman is the founder of Nijmegen´s international tango centre El Corte in Holland. He has studied dance education at the Rotterdam Dance Academy and has been dancing for more than 40 years. He began dancing the tango in 1987, inspired by his tango father Pepito Avellaneda. He travels 150 days per year and yet manages to find a way to teach in El Corte 3 days a week during the dance season.
Everybody is welcome to to book courses! If you are not yet a member in TangoNorte you need to register at http://www.tangonorte.com/register.php. After that you can log in and book. If you choose not to be a member you pay instead a small booking fee.
The web-booking closes Friday night October 11. After that any still available places will be sold for the on-site price 300 SEK per WS.
Kostnad: 250 kr per person.
Max antal deltagare: 21 par.

Bokningsperioden avslutades wednesday 9 October, 2019 at 22.
Om du har frågor angående evenemanget, kontakta Jessica Carleson eller Eva Lindroth.