Calendar
Milonga på Chicago + WS med Sara och Juampi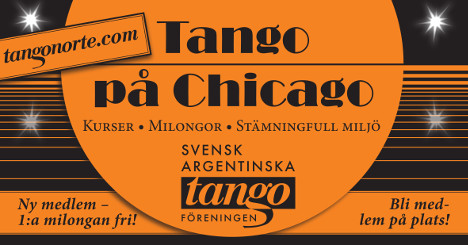 Sara Westin och Juan Pablo Canavire
friday 13 September at 19.30 till saturday 14 September at 00.30


Chicago

Fredagskväll på Chicago!
Vi inleder med Drop-in Workshop 19.30 - 20.30 på tema small out of axis to apply to the dance floor, med Sara Westin och Juan Pablo Canavire från DNI Stockholm. WS:en kostar 180 kronor. Studentpris 150 kronor.
Milonga från kl 20.30 med DJ: Pino Dangiola
Milonga: Medlemmar 100 kronor. Våra gäster betalar 140 kr.
Det går bra att betala med kort och med swish (men inga kontanter).
Varmt välkomna att dansa in helgen med Tango Norte!
Varje fredag! WS 19.30-20.30. Milonga fram till 00.30.
Information om lärare, tema och DJ uppdateras allteftersom det spikas
---
---
Ännu inte medlem i Tango Norte? Bli medlem här på hemsidan! Klicka på Bli medlem/registrera dig i vänsterspalten. Medlemskapet gäller ett år från betalningsdatum och du är sedan välkommen till Chicago och till praktikorna - till medlemspris!