VÄLKOMMEN till Svensk-Argentinska Tangoföreningen - Tango Norte.
Sök evenemang i Tangoalmanackan!
28/12 startar vi med förfest på Chicago. Sedan följer tre kvällmilongor och fyra eftermiddagsmilongor i Alviks kulturhus! Orkester, workkshops, uppvisingar, stor nyårsfest. Se mer här!!
CLICK HERE! to get to the festival page with information in both English and Swedish! Click here for an Overview!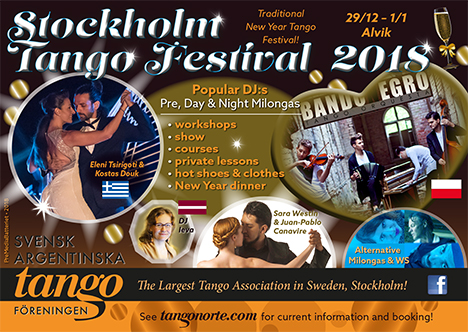 Tango hela veckan!
Måndag Fortsätt att utveckla din dans på Lignagatan! Instruktörsledd praktika på medelavancerad nivå.
Onsdag Alvik med stan's mest generösa tangogolv! Instruktioner för nybörjare och sedan fri praktika - för alla nivåer - med DJ hela kvällen!
Fredag Chicago! Klassisk milonga i vacker miljö! Drop-in workshop före milongan. Bar med servering av lättare rätter. Samlingsställe för tangofolk - nu i Tango Nortes regi!
---
Vill du öva hemma? Här kan du få tips genom Leena Palorantas praktika-blog http://mandagspraktika.blogspot.se/2018/
Välkomna att dansa med oss!
---
Numera går det fint att Swisha till Tango Norte. Alla praktikor och milongor kan betalas genom att Swisha till: 1234520896 (kurser och medemsavgifter, däremot, ska för smidig = automatisk hantering, betalas i kundkorgen)
---
---