Calendar
Tango Norte medlemsmöte och practica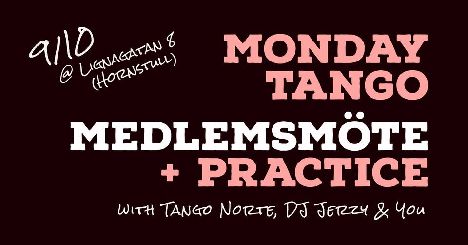 monday 9 October at 17.30 till monday 9 October at 21


Tellus Fritidscenter

Kom, fika, samtala och dansa! För ALLA som är med på medlemsmötet är praktikan GRATIS självklart!
18-19: Medlemsmöte (Gemenskap gör skillnad!)
Agenda
Ekonomisk rapport fram till och med September
Förslag till ny startsida till hemsidan och logotyp för Tango Norte! Förslaget presenteras och det blir diskussion!
19–21: Practica med DJ Jerzy
Alla är varmt välkomna!
/ Tango Nortes styrelse & måndagsgrupp
______________
Come, share your thoughts and dance afterwards! Practica is FREE of charge for everyone who joins the meeting
18-19: Members meeting (Community Matters!)
19-21: Practica med DJ Jerzy
Everyone is most welcome!
/ Tango Norte's board members & Monday volunteers