Calendar
Praktika och WS med Gästlärare Adrian Ferreyra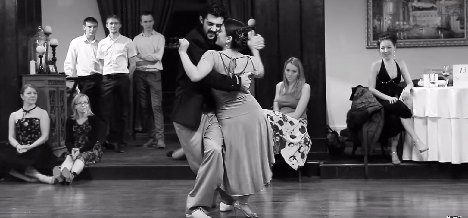 DJ: Rolf Södergren
wednesday 16 October, 2019 at 18 till wednesday 16 October, 2019 at 21.30


Alviks Medborgarhus, Brommasalen

Den här onsdagen har vi besök av Adrian Ferreyra från DNI i Buenos Aires som ger en Drop-in workshop på fortsättningsnivå på temat Nice Sequences to do in closed embrace.
18.00 - 19.30 WS med Adrian Ferreyra
19.30 - 21.30 Fri dans med DJ: Rolf Södergren.
Se Adrian dansa här:
https://www.youtube.com/watch?v=RNLFoM0I924
Kostnad:
WS:en kostar 120 kronor Entrékort etc. gäller ej, men praktikan efteråt ingår!
Efter 19.30 gäller sedvanligt inträde dvs: Medlemmar 60 kr, studerandemedlemmar 40 kr, medlemmar under 20 år gratis. Gäster 100 kr. Entrékort med 12 markeringar för medlemmar 600 kr. Gäster som besöker oss första gången går in gratis.
Det går bra att betala med bankkort eller swish. Dock inte med kontanter.
Välkommen att dansa med oss!
Värdar: Leif Rundblad o Ingrid Birke
---
Kort om Adrian After graduating from the Academia Argentina de Estilos de Tango(AC.E.T.A), Adrian started working at DNI Tango in the year 2007. Since then he has formed part of the teaching staff at the DNI tango studio and its respective dance body , DNI COMPANY, participating in the shows: LA COLECCIÓN DE TANGOS DE UNA VIDA, AREALIDADES AND LA MUSA DEL CAPRICHO.
---