Calendar
Tango Grundkurs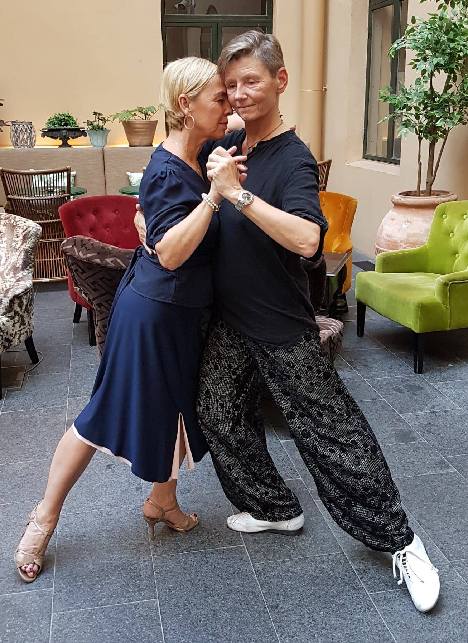 Marianne Lingserius och Malin Backström
saturday 29 December, 2018 at 12 till saturday 29 December, 2018 at 13.30


Alviks Medborgarhus, Brommasalen


Stockholm Tangofestival 2018 28 dec - 1 jan

Grundkurs med Marianne Lingserius och Malin Backström: 29/12 - 1/1 (3 dagar)

Välkommen på grundkurs i argentinsk tango! Kursen passar bra för dig som aldrig dansat tango förut, men du är också välkommen om du redan dansar och vill repetera grunderna. Vi kommer att fokusera på grundtekniken, musiken och känslan i dansen. Självklart lär vi oss också några kul stegkombinationer. Vår förhoppning är att du efter kursen ska känna en lust att lära dig mer av denna underbara dans.

Kursen består av tre tillfällen under nyårshelgen:

I priset ingår även entré till eftermiddagsmilongorna (där vi dansar socialt), som startar strax efter kursen (kaffe/te ingår). Det går bra att anmäla sig som ensam förare eller följare, men eftersom vi behöver vara jämna par på kursen så kommer paranmälningar att ha förtur om vi inte hittar någon partner åt dig. Vi kommer också att byta partner några gånger under kursen eftersom man lär sig mer då.

Välkommen att dansa med oss!
---
Om du inte redan är medlem i Tango Norte måste du registrera dig innan du kan boka kurser (tryck på "Registrera dig" i vänsterspalten). Efter det kan du logga in och boka. Om du inte väljer att bli medlem så betalar du istället en liten bokningsavgift.
---
Basic course with Marianne Lingserius och Malin Backström: Dec. 29/12 -31/12 (3 days)
Welcome to a basic course in Argentinian tango. The basic course is for those who are completely new to tango, but also for you who already have started and feel that you need more basic training. We will focus on the basic technique and the feeling of the dance, but we will of course also teach some fun steps. Our goal is that after the course you should feel that you want to learn more about this fascinating dance!
Entrances to the afternoon milongas are included! They start shortly after the course. Coffee/Tea included.
You may register as a single leader or follower and we will then try to find a partner for you. However, since we need to have leaders and followers in equal numbers couples will have priority. We will change partners during the course in order to practice and learn more.
Welcome!
---
If you are not yet a Tango Norte member you need to register in order to book courses (press "Register yourself " in the left column). After that you can log in and book. Payment can be done in several ways including credit card. If you choose not to be a member you pay instead a small booking fee.
---
Kostnad: 500 kr per person.
Max antal deltagare: 12 par.

Bokningsperioden avslutades friday 28 December, 2018 at 23.55.
Om du har frågor angående evenemanget, kontakta Eva Lindroth eller Marianne Lingserius.